Caution !!
No Customer Satisfaction Policy !!
be careful when booking a room they give no refunds !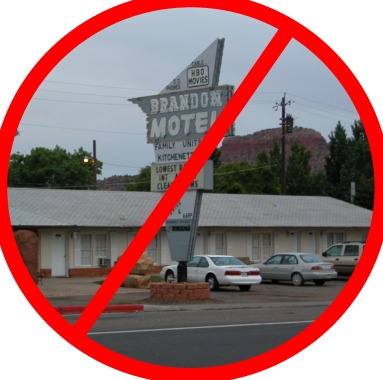 During our trip to Bryce and Zion we booked 2 rooms in advance in Kanab Utah.. We had visited Kanab in 1999 and stayed in a motel on West Center road. When I looked on line this place looked to be in the right location.
When we arrived in Kanab I realized it was on the other side of the street. So, we went into the lobby and the woman behind the desk offered to let us see the rooms. After seeing the rooms we told her we didn't want them because they weren't satisfactory to us. She said they have a 24-hour cancellation policy and we would have to pay for the first night. So, we paid for the first night and went across the street and booked a room for the 4 nights we were going to be there.
Then I decided to go back to the Brandon and check out. We gave them the keys, checked out and I asked for a refund. No way. The young lady behind the counter said she couldn't make that decision her husband had to. So I asked to speak to him. He wasn't there. She said I would have to come back later. So we went back later and asked to speak to her husband. She said he was in the parking lot working on his truck. So, we went out and asked him. He said no he was going to keep the first night. So I offered to pay for half the cost. He said no. We thanked him and moved on. So, if you're going to Kanab be careful of the Brandon Motel. They don't seem to have any customer satisfaction policy only an owner cancellation policy.