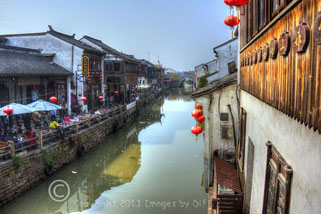 click photo to enlarge
We arrived in Suzhou in the dark by bus. We were tired. It was a long day flying from Beijing to Shanghai, and then driving to Suzhou. Our guide gave us recommendations for other restaurants, in case we didnít want to eat at the hotel.

She said there was a chicken restaurant across the street, and if we went out of the hotel and turned right, there was a Chinese restaurant.... Umm weíre in China, isnít there a Chinese restaurant everywhere? We decided to be adventurous and try the Chinese place. Of course, nobody spoke English and the only Chinese we knew was Hello and thank you. But we did have a picture of a fork on Karenís phone. The menu had some interesting translations like a ďBad Fish FryĒ.

click photo to enlarge
After dinner, we went back to the hotel and, I went out to get some night shots of the city and the canals.

In the morning, we went to a Silk Factory and learned how silk is made and what makes this town special for the production of silk, the climate. Of course, the Silk Factory had a store, which sold silk comforters, and silk duvet covers. We were told the silk comforters are lightweight and warm in winter and cool in summer. Queen size prices started around $150. Karen bought a couple silk scarves instead. From the Silk Factory, it was on to the Lingering Gardens. The Lingering Gardens were built in 1583 as a private residence for a bureaucrat of the Ming Court. In 1997, it was designated a UNESCO World Heritage Site.