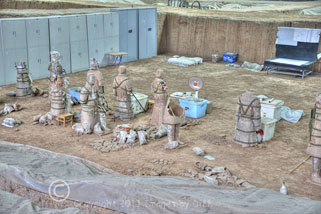 click photo to enlarge
From Wikipedia "Estimates from 2007 were that the three pits containing the Terracotta Army held more than 8,000 soldiers, 130 chariots with 520 horses and 150 cavalry horses, the majority of which remained buried in the pits nearby Qin Shi Huang's mausoleum. Other terracotta non-military figures were found in other pits, including officials, acrobats, strongmen and musicians."

We visited many ancient places like the Great Wall and the Forbidden City but the warriors was one of the more fascinating things for me. How many thousands of people must have been used to build the warriors, dig the trenches for them, then place them in these pits. The same thing with the Great Wall and we are talking BC where everything was pretty much done by hand.