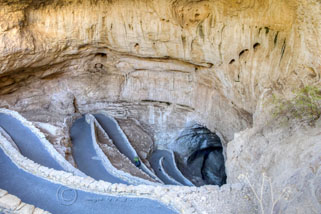 click photo to enlarge
In Carlsbad we went to the Caverns and they were really spectacular. While there I read they are the largest rooms so when I got back to the hotel I had to look up Mammoth Caves in Kentucky. It seems Carlsbad does have the largest room but Mammoth is the longest. We also got lucky because the caverns were pretty empty. Spring break had ended the day before and we were told the lines the day before were very long for the elevator. We walked down the natural entrance but rode the elevator back up.

We also went to see the Flumes in Carlsbad and I went back at night to photograph. They had a very nice state park called the living desert zoo and gardens. Very nice park.