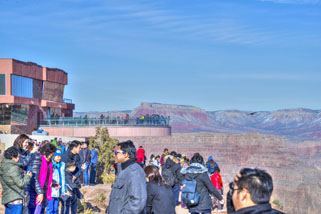 click photo to enlarge
We have been to the Grand Canyon many times in different locations; the South Rim, North Rim, East Rim, West Rim and even driven down into the canyon to the river. The last time we were at Grand Canyon West it was a dirt road and they had not started building the Skywalk yet. To me it seems expensive to visit Grand Canyon West and the extra costs to go out on the skywalk is a lot. But, we had to do it once. If you are visiting from back east or another country.. well then the money may not seem so high. The day we were there it was very crowded and we had to wait in line an hour to go on the sky walk. You are not allowed to take a camera or phone out on it either. Before you go out on the walk you are wanded for metal so if you try to sneak a camera out you will get caught.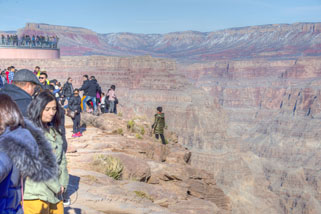 click photo to enlarge
The view on the Skywalk is pretty cool. You have to put booties on over your shoes to protect from scratching the glass also. Part of the admission includes a bus ride to 4 different locations on the Hualapai Nation lands. It also includes lunch at one of their restaurants. The 4 viewpoints are Guano Point, Hualapai Ranch, Eagle Point Viewpoint and the Skywalk glass bridge. The cost to visit Grand Canyon West when I posted this was $46.95 to be able to go to the 4 viewpoints and lunch and $71.38 to add the Skywalk to it. They of course have many other things such as helicopter rides, horseback rides, river raft rides.