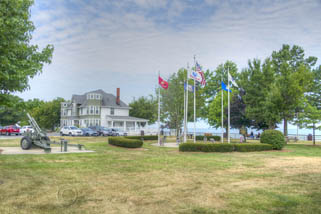 click photo to enlarge
We decided to take a trip back to Cleveland to visit family and friends and also to make this our very first long trip on a Blue Highway, Route 6, the Grand Army of the Republic Highway. We have lived on Route 6, I went to Elementary school on Route 6, we often went on motorcycle rides on Route 6 and I knew it went from coast to coast. Unlike Route 66, Route 6 is still a viable road, not paved over by freeways. A Blue Highway on old road maps was a secondary or back road and main roads were red. I spent many hours reading about and studying things to do, places to stay and places to eat. But even with all the planning and studying of the trip there were still things that surprised me. The picture to the left, in Avon Lake Ohio, the memorials and the cannon was a common theme we would see along Route 6/ This was a nod to the Grand Army or the Republic, a fraternal organization composed of veterans of the Union Army of the US from the Civil War. The second picture from the top was just a very small village in western Ohio and they had a cannon and cannon balls with GAR painted on them.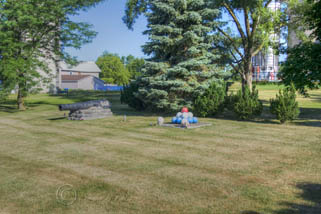 click photo to enlarge
This drive home from Cleveland would take us 19 days to complete which means an average of about 125 miles per day. The number of different museums, sites and fond memories from this trip are numerous. In the pictures on this page are the Merry Go Round Museum in Sandusky, National Construction Equipment Museum in Bowing Green and they are just a few of the more unusual museums we would stop at. Then there were all of the honor system vegetable stands along the road. I had simply forgotten about these kinds of things living in southern CA for the last 18 years. We also would experience some wonderful foods in the different states along the way. On our way through western Ohio we stopped at the New Sandusky Fish Company for our last taste of a northern Ohio favorite, lake Erie Perch. And NO, ocean perch does not even come close to the sweet delicate flavor of Lake Erie Perch.