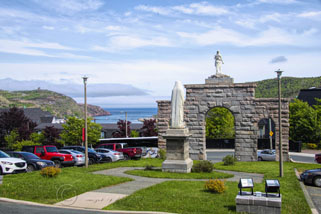 click photo to enlarge
On day 12, which was Canada Day, July 1, we drove to St. Johns, the capital of Newfoundland. We arrived at lunch time, and we all went off on our own for lunch. After lunch we were going on a boat ride to the Witless Bay Ecological Reserve. The Ecological Reserve is home to over 2.5 million seabirds including over 500,000 pairs of Atlantic Puffins. We saw 10s of thousands of Puffins in the air and on the ground. It was an abysmal, dreary, rainy day, and absolutely awful for photos, but we saw Puffins. There would be clouds of Puffins flying by. We did spot 3 Minke whales too, the smallest of baleen whales. Seeing them was more like seeing a dolphin swim by. But we had now seen all of the 5 things people come to Newfoundland to see. For dinner this night, it was raining really hard, so we just stayed at the hotel and ate in the hotel restaurant.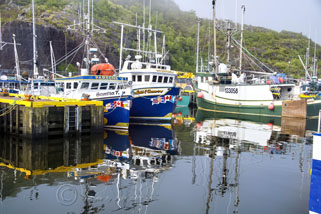 click photo to enlarge
Day 13 would be our last day in the province before flying home. Our adventurous coach driver was up for taking the coach down some questionable roads to get us views of the seafront and surrounding parts of St. Johns. We stopped a number of places to take pictures. There was a heavy layer of fog that finally lifted around noon. We went out to Cape Spears, the eastern most point in North America, but the fog was so heavy you could barely see the water and the lighthouse. After lunch, we went to Signal Hill National Historic site where we met our guide, Lisa, for an afternoon tour of the city. She was very enthusiastic and loved her city, and she did a fantastic job. It made for a very enjoyable last day in Newfoundland.