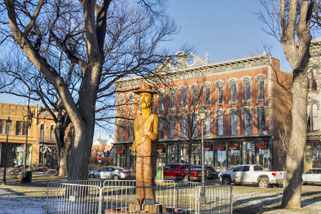 click photo to enlarge
We took trains from Upland to Los Angeles then to Las Vegas New Mexico. We used Uber to get to and from the Upland train station. A complete no car driving trip. Las Vegas New Mexico, the original Vegas, is at about 6,500 feet elevation and has a population of about 14,000 people. They have over 900 buildings listed on the National Register of Historic Places and have been used for many movies over the years. In fact our hotel suite at the Plaza Hotel was the suite Tommy Lee Jones used for 7 weeks while filming No County for Old Men. This trip was as much about the train ride, as it was the destination. We also wanted to see the incredible work that Allan Affeldt and Tina Mion have done at the Plaza Hotel and Hotel Castañeda. We have stayed at La Posada in Winslow Arizona a number of times, which is a Harvey House they have restored. Since we have been volunteering for almost 20 years, at the Route 66 Museum, located in Casa del Desierto--the restored Harvey House in Barstow, and have stayed at the Harvey house in Winslow… it made sense to us to see what Allan was doing in Las Vegas restoring the Harvey House Hotel Castañeda.

click photo to enlarge
Our hotel, the Plaza Hotel, was beautiful, and the hallways are decorated with information on the people who have stayed there. Just outside our room was the stairway where Javier Bardem clobbered Woody Harrelson in No Country for Old Men. Allan has done a fantastic job on this hotel. In the lobby they have a video showing all about the restoration. While in New Mexico I got my hatch green chili fix by eating them for every meal, even on the train. We of course got to see where the Sheriff's Office was in the TV series Longmire.